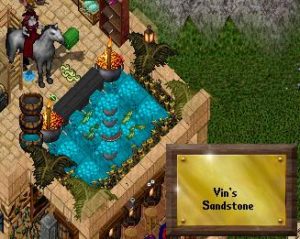 Back at it again, this time with contests run as a joint endeavor.
As the first contest UOHomeDecor.com and UOForums are hosting together this year, we've decided to do a summer themed decoration contest.
Decorators, you can submit anything you want, whether it be a room, an object, or an entire house. The sky is the limi but it should be Summer Themed.
A few rules:
1. The house(s) must be in UO. You cannot use HomeBuilder or any other applications as they contain tiles/items you cannot find in game. You actually need to decorate a home in UO to make this fair to everyone. These homes should be available for staff to visit if requested…meaning this has to be on a real UO Shard, not a freeshard/server.
2. Screenshots HAVE to be of homes in UO. Real life Homes do not apply for this contest. (yes I have received pics like this).
3. You can submit as much as you want, but you can only win once.
4. Any entries received by a different e-mail than the one listed below will be ignored.
5. Late submissions will not be accepted under any circumstances. There are deadlines for a reason.
6. When you post the pictures or e-mail them to me, please include the shard you are on.
To make things easy, we have two ways for you to submit your entries. The first is to post them as attachments on this thread located here.
Alternatively, you can just e-mail me the pics. My email is submissions@uohomedecor.com I'll edit them down to proper size/dimensions and host them on uohomedecor.com under the Deco Contests menu as well as post them to this thread for everyone to see.
ALL ENTRIES MUST BE RECIEVED NO LATER THAN 11:59 p.m. CDT August 13, 2011.
A panel of judges will decide on the winners. If you are interested in being a judge, please reply to this thread or PM me.
Prizes, provided by Lord Nabin who is sponsoring the contest, are as follows:
1st Place: 15m on production shards
2nd Place: 10m on production shards
3rd Place: 5m on production shards
Prizes may contain additions at a later point, which we will add here if it comes through.