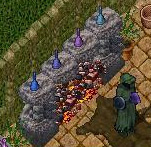 Written by: Faith of Legends
Items Needed:

8 cut cloth (dyed to darkest grey color)
dyes
dye tub
2 comm crystals (set to inactive, I use receivers)
12 gold
6 rock (artifact ones – Rock 1 in diagram)
4 rocks (morning rare – Rock 2 in diagram)
2 small shadow ore
2 large iron ore
Interior Decorator

Space Needed:4 spaces on an east facing wall. I have tried this on a south facing wall, and will take a bit more adjustments but can be done. For a better looking fireplace, I do suggest the east facing wall.

Step 1:Place a stack of 2 cut cloth on section 1 of the floor. Lock down. Then stack another set of 2 cut cloth on top of this. Lock down.

Step 2:Place Rock 1 on top of your stacked cloth. Then place 2 of Rock 2 on top, followed by another Rock 1.

This is your first side of the fireplace. Be sure to lock each rock down as you place them.

Step 3:Place 6 gold in section 2 of the floor. Lock down. Place 1 communication crystal on top of this. Lock down. Then place 1 iron ore, lock down, followed by one shadow ore, lock down.

Finally, place Rock 1 on top of the pile you have just made. Lock down.

Step 4:Repeat Step 3, Then Step 2. You should now have 2 sides and the center of your fireplace complete.

Step 5:Using the Interior Decorator raise the two center Rock 1's 6 spaces into the air. This will line them up with your two sides.

Once you have your fireplace built, you can decorate the mantle as you desire.

A hint for you is while your doing Step 3, place whatever you wish to have on your fireplace mantle on top of the Rock 1. Then when raising, you just raise your item into the air 6 spaces, then raise the Rock 1. Can save a hassle when later placing items on your mantle.

This fireplace is nice because at nice it also glows.