By Lord Gareth, posted on UOForums here.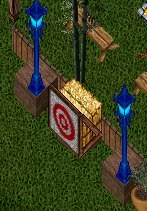 Simply customize your house.
Select the half circle steps.
Get a square goza.
Place goza on half circle step.
Raise goza two spaces or more depending on height you want.
Double click add-on deed and click Goza mat.
(Same applys for Rubble & Lamp Posts. Get goza square raise it to the height you want your rubble or lamp post. If you cant get item to place. Grab a box put item in then place box on Goza. Then Axe box.)
Vendor height-
Get square goza
Raise
Put vendor contract on goza.
Axe Goza.
Rent vendor.
************************
Place multiple gozas like steps.
Or use the Christmas Snow.
And place your own vendor on the goza.
*************************
Two story token statues OR character statues.
Character statues only need 1 goza
I believe the two story statues need 3 or 4 raised to the same height.
You can do this with ANY add-on.
**************************
That pesky banner wont go the right height?
Grab a treasure map! Place it on the steps or the square box step and raise it 2 spaces.
Double click banner deed.
Click on T-map.