This decor piece is only going to take up 1 tile and should be next to a north wall.

First step is to stack the two tables in the tile you wish to use. Lock them down if a chance is there for them to be stolen, otherwise, no need to lock them down.

On top of the tables – place and lock down 2 of the logs (stacked together)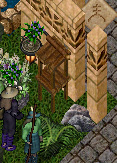 On top of this, stack the remaining 2 logs and 2 nightshade. Lower the nightshade 1 using your decorator's tool.

Next on the pile, stack the pile of 2 eggs followed by the single remaining nightshade and then the single garlic. Be sure to lock all items down.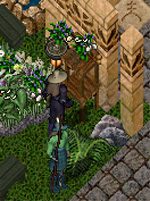 It is tempting to alter the order in which you drop the items to prevent from having to lower the first stack of nightshade. If you alter the order, you will not be able to stack the piece of garlic. It must be followed in this order to have all items stack appropriately.

Now you may remove the 2 tables – top table first and then the bottom. This should prevent the items from falling.

The final touch to add the cascading look is the dried flower. Drop the dried flower on the tile and lock it down. You should not have to raise or lower the dried flower, but in case you do, you want the white tip hidden under the top of the decor piece.